See on Scoop.it – Audio & Video Tools for Educators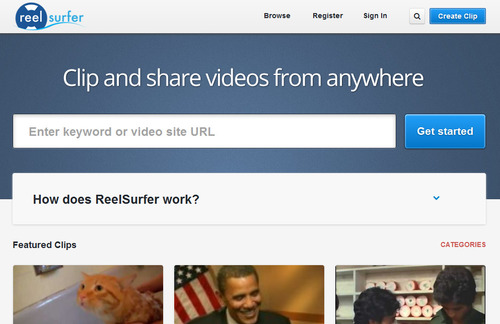 Excerpted from review article by TechCrunch:
"ReelSurfer is an instant video editor, born out of its founders frustration of trying to find clips, quotes and scenes from their favorite movies on YouTube and other video sites.
ReelSurfer developed the tools to let you clip any video from any website and share it with your "homies" and "homedawgs" over the Facebooks, Twitters and more.
Today, ReelSurfer has officially unveiled a redesigned interface, which looks a whole helluva lot better and makes it easier to navigate and makes its URL search box even more prominent — as it should be.
The new interface still enables users to make video mashups or reels of multiple videos and link back to the source so that viewers can check out the full clip if they so choose. However, the new interface does allow for improved search and video discovery, so that users have a better chance to see if the clip they want to make has already been clippity-clipped by someone else. Time saving, my friends, time saving.
Yet, the biggest addition would have to be that ReelSurfer the now allows users to use its bookmarklet to clip videos from both Brightcove and Ooyala, in addition to YouTube and Vimeo…"
Read full original article:
http://techcrunch.com/2013/04/12/y-combinator-grad-reelsurfer-gets-a-makeover-now-lets-you-clip-share-any-espn-or-new-york-times-video/
Check out ReelSurfer: http://www.reelsurfer.com
More information: http://www.reelsurfer.com/about
See on techcrunch.com